About Us
Mission
The objective of PGI is to train service dogs to assist people with a variety of different disabilities while providing support to encourage independence. PGI educates the public about the benefits of service dogs and encourages animal rescue by obtaining many of our animals from shelters and rescue groups.
Vision
To provide quality service dogs free of charge to adults and children
Provide exceptional canine health and overall well-being for our dogs
Create the highest quality match between dog and handler
Develop a long-term relationship with our alumni and the community
To educate the public about service dogs through demonstrations
Values
Ensure proper humane treatment toward people and animals
Remain open to innovation and change
Encourage the use of teamwork and good communication
Show accountability for our actions
Promote honesty and integrity
Work toward furthering PGI's mission
PGI's Primary Focus
Mobility Service Dog
Mobility Service Dogs help by performing functions for a person that is limited by a disability.
Mobility impairments (wheelchair, unstable walking, balance difficulty)
Medical Response (Seizures, Epilepsy, Diabetes)
Visual impairment (Partial site)
Hearing impairments
Other physical/mental disabilities
Psychiatric Service dog
Psychiatric Service dogs perform tasks to make their handler more independent
PGI does not train or certify Emotional Support Dogs
Facilitator Assisted Companion Dog
Facilitator Assisted Companion dogs help individuals with disabilities or other developmental delays and the parent/caregiver is certified to handle the dog.
Facility Dogs
Facility Dogs are Trained to perform animal assisted interventions at a facility: hospitals, medical facilities, nursing homes and other facilities.
Pediatric outpatient rehab centers
Veterans Outpatient rehab centers
Juvenile residential homes
Grade Schools, High Schools & Colleges
Nursing homes
Who We Are
Paws Giving Independence NFP (PGI) is a non-profit organization founded in 2008 by Bradley University undergraduate students. After working with a service dog group in Chicago, the students realized the Central Illinois community would greatly benefit from such an organization. Being physical therapy and nursing majors they called on a friend majoring in business, to help with the organization's finances and business aspects. PGI took third place in Bradley University's Project Springboard competition in the fall of 2008. This competition gave the founders the tools and resources they needed to move the organization forward.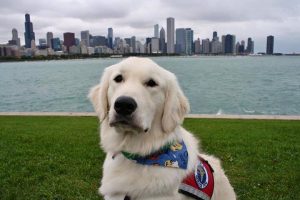 The purpose of PGI is to train service dogs to physically assist people with various disabilities. Many of our dogs are rescues and come to us from various organizations throughout our community.
Dogs complete simple tasks for their owners such as picking up dropped items, turning on lights or opening doors. These tasks would be difficult or impossible for these individuals without assistance. PGI's goal is to provide support to encourage independence for the dogs' owners. In addition, the dogs bridge the gap between the disabled and non-disabled communities.
Similar organizations may charge between $10,000 and $15,000 for a service dog; however, PGI is different because it places its dogs free of charge. PGI's service dogs benefit individuals with spinal cord injury, muscular dystrophy, arthritis, developmental delays, cerebral palsy, balance problems, and more. PGI is run exclusively on public donations and endowments.
PGI – Saving a life, to change a life.